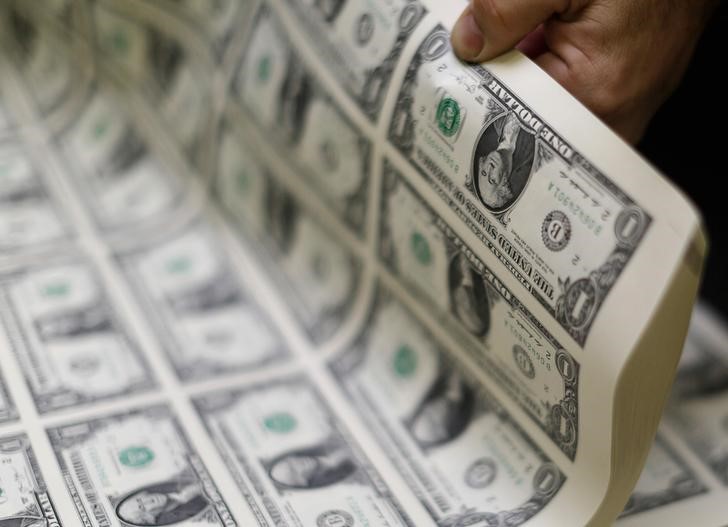 © Reuters.
By Peter Nurse
Investing.com – The dollar weakened in early European trade Thursday, falling to a one-week low as fresh hopes of new U.S. fiscal stimulus prompted traders to seek out the perceived riskier currencies.
At 3:50 AM ET (0750 GMT), the Dollar Index, which tracks the greenback against a basket of six other currencies, was down 0.1% at 93.875, just off the one-week low of 93.680 hit earlier.
Elsewhere, EUR/USD climbed 0.1% to 1.1731, GBP/USD rose 0.1% to 1.2884, while USD/JPY was up 0.1% at 105.50.
This renewed optimism for a new Covid relief package has been based on comments from U.S. Treasury Secretary Steven Mnuchin, who said Wednesday that talks with House Speaker Nancy Pelosi had made progress, prompting the House of Representatives to postpone a vote on a Democratic coronavirus plan to allow more time for a bipartisan deal to come together.
Mnuchin said later on Fox Business News that he would not accept the Democrats' proposed $2.2 trillion aid package, rather something closer to $1.5 trillion, adding that an agreement had been reached on direct payments to Americans.
These two positions are largely unchanged from where the parties left things before the presidential conventions. But the need for economic stimuli has become very apparent, with several large U.S. companies now embarking on extensive firing rounds, and the markets have reacted to the fact they have started talking again.
Helping the risk-on tone has been some healthy economic data out of the U.S., with Wednesday seeing strong U.S. labor and manufacturing data.
The data slate is pretty full Thursday as well, with most eyes on the weekly unemployment measurements, particularly after Wednesday's better than expected ADP private payroll gains and before Friday's last official government data on jobs before the general election.
Elsewhere, USD/TRY fell 0.6% to 7.6678, with the lira rebounding after falling to a record low of 7.8568 per dollar on Tuesday.
This follows Turkey's decision to cut a tax on foreign currency purchases and also cut the withholding tax on new or renewed lira deposit accounts for the rest of this year.
These are the country's latest steps to ease market restrictions introduced over the past year that have hurt investor sentiment and failed to stop the lira's depreciation.
Also, USD/CNY traded largely flat at 6.7908, with the yuan having earlier climbed to its highest level since May last year.
This follows strong PMI data out of China on Wednesday, showing the world's second-largest economy is still on a recovery track. That said, volumes are thin with the onshore market closed for holidays until Oct. 9.